Product Description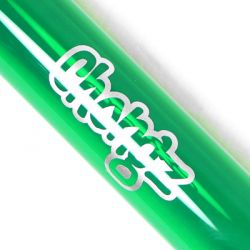 The Chongz "Wicked Wanda" Ribbed Glass Bong has a cool retro aesthetic, looking almost like a 1970's ornament.
The ribbed glass gives this bong an awesome aesthetic and the twisted design of Chongz "Wicked Wanda" actually means that the smoke has further to travel, than if it was a plain straight tube, which will help to cool the smoke for inhalation.
It features a removable diffuser down stem and the bowl also features a kink in the neck, making it easy to remove with the grip of a finger, when wanting to clear the smoke from the bong.
You can find accessories and replacement parts for your bong here