Product Description
Brand: Chongz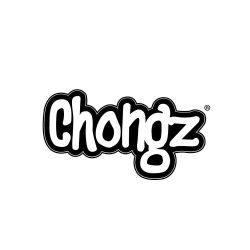 Introducing the Chongz 31cm 'The Blob' Glass Bong, perfect for smokers that want great value for money and a groovy design.
Like most glassware from the Chongz range, 'The Blob' features ice notches. This allows users to drop ice cubes into the neck of the bong, which cools the smoke and creates smoother, fresher tasting hits. 'The Blob' is shaped in a classic beaker style design, with plenty of room for lots of ice cubes. It also has a large sturdy base that holds plenty of water. With blue coloured glass, contrasting gunge green blob splats all over and Chongz branding adorning the neck of the bong, 'The Blob' is another eye-catching design by Chongz.
'The Blob' has a 18.8mm female ground joint and comes included with a glass diffuser stem and herb bowl. The stem measures 11cm in length and has a male 18.8mm joint which tapers down to a 14.5mm female joint to fit the 14.5mm male bowl.