Product Description
Brand: Chongz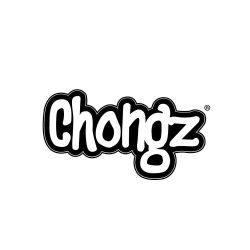 Made from glass in a mesmerizing pearlescent venom colour scheme, the Chongz 31cm 'Bonar Champ' Venom Glass Bong is one of the most stunning looking bongs we have ever sold.
Unlike standard beaker shaped bongs, this beauty features 4 decorative maria's running down the neck of the bong, with enough space left at the top to fit a couple of ice cubes for fresher tasting hits. The round shaped base holds plenty of water and sits securely on surfaces, giving you peace of mind from accidental bumps and knocks. The base also features the all new Chongz platinum logo which contrasts beautifully against the pearlescent colour scheme.
One of our favorite things about this bong is the inclusion of a matching pearlescent glass diffuser stem and herb bowl, unlike the clear glass ones that usually come with the Chongz range. The 'Bonar Champ' has a 18.8mm female ground joint. The matching stem measures 11.5cm in length and has a male 18.8mm joint which tapers down to a 14.5mm female joint to fit the 14.5mm matching glass male bowl.