Product Description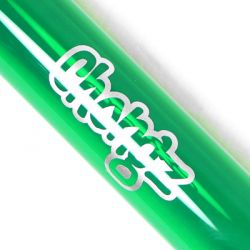 Crafted in borosilicate glass embellished with shiny coloured accents, this gadget presents 2 very distinctive features:
Built-In Inline Diffuser that will create plenty of bubbles and provide you with the best filtration for your hits
Percolator with Finger Grip that will not only split your smoke in 2, but will also allow you to firmly and safely hold your device!
The kit comes with the following pieces:
Main Glass Bong & Dab Rig Body
14.5 mm Male Connector Sized Glass Bowl
14.5 mm Male Connector Sized Glass Dome
Glass Nail
Hurry up and get your one! Limited stock applies.