Product Description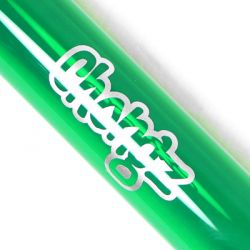 Presenting the 'Purple Haze' 30cm Glass Bong/Oil Rig by Chongz!
This multi-purpose glass bong also works as a oil rig - giving you the best of both worlds if you're looking for an all-in-one solution for both smoking and dabbing. One of the most noticeable features of this bong/oil rig is the unique looking in-built percolator that resembles some sort of one-eyed alien octopus!
This bong/rig is constructed from thick glass that feels weighty to hold. The large circular base keeps the bong standing tall and free from tipping over. With purple accents contrasting beautifully against its clear glass construction, the Chongz 30cm 'Purple Haze' Glass Bong/Oil Rig is a winner in our book.
This item comes included with a glass nail, dome and paddle lift bowl