Product Description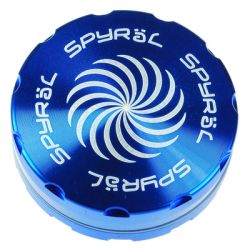 Made from aluminium with a steel mesh sifter, this Spyral grinder will cut through your culinary herbs with ease. Available in 3 sizes.
The top part of the grinder has specially designed razor sharp teeth to slice your culinary herbs and spices into a perfect, smooth consistency. This ensures that you get the most potency out of your herbs as possible. Its easy grip design making it even easier!
The centre part of the grinder collects your ground up mixture of herbs ready for use.
The sifter will separate the finest, most potent part of your herbs and collects it up in the bottom part of the grinder for use later on. The included scraper makes it easy to gather up the fine powder.
Colours Vary