Product Description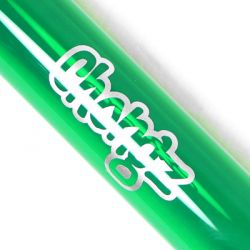 Make the most of your culinary herbs and spices with the Big Hitter 62mm 4 Part Sifter Grinder by Chongz.
This gorgeous aluminium sifter grinder not only looks the part, it also performs like a pro. Thanks to the Big Hitters razor sharp teeth, even the stubbornest of herbs get shredded into finely cut pieces in a matter of seconds. Grinding is smooth and silent, unlike bad quality grinders that stick and make awful screeching sounds.
The Big Hitter consists of 4 parts that are easily screwed on and off. The sifter layer features a fine mesh screen that filters through the most potent parts of your herbs and stores it in the lower compartment that you can then use either when your herb is finished or when you want to add a little extra potency. Other noticeable features include Chongz branding engraved onto the lid, a small plastic spoon for easy distribution of your sifted herbs and a beautiful red/black colourway.