Product Description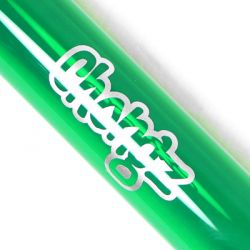 Introducing the 'A-Punk' 19cm Glass Bong from Dr Death by Chongz!
This compact 19cm glass bong features ice twist notches that enable the user to add ice cubes for extra flirtation and cooler hits. It comes included with a 11cm glass stem and a glass triple-handle 14.5mm male ball bowl. The bowl and mouthpiece of this bong comes in a glossy pale green colourway and features Dr Death by Chongz branding on the front.
With its beaker style appearance, this bong is sleek and sophisticated, doesn't take up much room and performs great within its price range, what more could you ask for?