Product Description
Brand: Chongz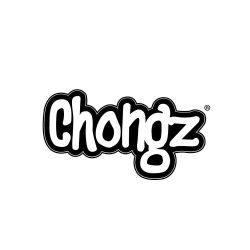 Presenting the Chongz 38cm 'Big Robs Daydream' Chromed Blue Glass Bong.
Chong are definitely one of the most innovative bong designers out there and their newest creation is no exemption. Never loose your lighter again because this bong literally has a built-in glass pocket for your lighter! But this isn't the best feature. It's impressive ice catcher can hold a huge amount of ice and with 38cm of height, you have loads of space for a massive cool hit.
This bong not only boasts an incredibly unique design, it's also very practical and extremely eye catching thanks to it's chromed blue colour. Definitely an all rounded beast.
'Big Robs Daydream' has a 18.8mm female ground joint and comes included with a glass diffuser stem and herb bowl. The stem measures 12cm in length and has a male 18.8mm joint which tapers down to a 14.5mm female joint to fit the 14.5mm male bowl.