Product Description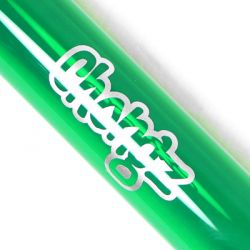 The Chongz Tuperc Double Percolator Ice Bong is a premium bong featuring 5mm thick glass, an upright built in downstem and a dual percolator system but for a modest price.
The Tuperc's most obvious feature is the double percolator system which has two functions. The first is to force the smoke to travel a longer distance to allow it to cool down. The second is to catch some of the tar from the smoke. These two functions help to provide the user with cool, smooth and tasty hits.
The 5mm thick glass makes the Tuperc very durable which is great if you plan on using it as an everyday bong.
The upright built in stem is comes with a removable herb bowl but great for those of you who wish to use an oil nail (not included).
The ice dimples above the double percs allow the user to add ice which greatly enhances the smoothness of the hits.