Product Description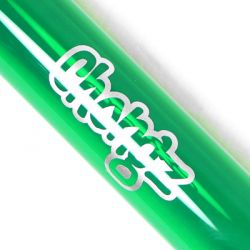 Introducing the radical cousin of the famous 'Lil Sebastien' the 'L'il Trev' has all the same great features with a little added style.
Made from 4mm glass it features a 18.8mm female diffuser downstem complimented with a 14.5mm Ash catcher. This combination will help to diffuse the smoke through water, helping to cool and diffuse it.
The smoke then has to pass through its 3 arm tree percolator, which again cools and diffuses the smoke for a smoother hit.
It also features ice notches, so you can add ice cubes to super cool your hits.
Trimmed with Black accents, this functional piece will go great in anybody's bong collection.