Product Description
The Candy Stripe Percolator Ice Bong is a gorgeous looking piece of glassware. It's striped percolator and it's decorative but functional bowl really make this bong stand out from the crowd.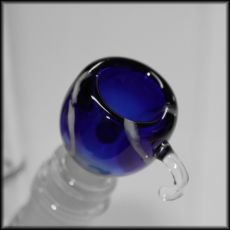 The bowl of the bong is beautifully inlaid with stripes of white glass that give it an amazing look and the handle allows easy removal of the bowl even directly after use.
The percolator helps to cool the smoke as well as remove tar to provide a smooth cool smoke. The ice dimples add to this cooling effect, allowing you to add an ice cube to the bong for super cool hits.
Colour may vary.