Product Description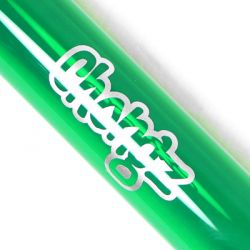 Get into the Halloween spirit this October with the Dead Head 'Train to Busan' 43cm Glass Percolator Bong by Chongz.
These freakishly fantastic bongs are bound to give anyone nightmares.... nightmares of missing out! With 7mm thick glass, a huge shower head percolator, ice notches and a diffused downpipe with a bead handled bowl, you'd be dead in the head not to bite our hands off!
Let's take a closer look. The glass body is beautifully constructed and will sit sturdy on any flat surface. This is thanks in part to its large base that holds plenty of water. The inclusion of ice notches and the subsequent option of being able to add ice cubes to the bong enables users to experience extra cooling and filtration. Throw a showerhead percolator into the mix - which provides even more filtration - and the results are big, clean, cool and flavoursome hits.
Make sure you're all aboard the 'Train to Busan' before it leaves. Next stop, Zombieland!
Available in a choice of 4 frightening colours