Product Description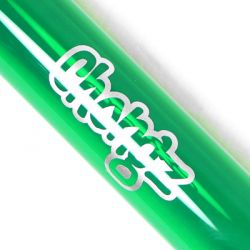 Presenting the 27.5cm 'Frog Princess' Percolator Glass Bong by Chongz.
Much like eating frogs, this particular piece of glassware is an acquired taste that is bound to split opinion. Looks aside, there's plenty to admire about the Frog Princess. Let's start with the frog shaped perc that filters the smoke to provide a cleaner hit. Or how about the sturdy large round base that does a great job of keeping the bong standing strong and free from falling over.
Whatever your opinion is towards the Frog Princess, if you're looking for a decent peculator bong then look no further. This item comes included with a glass paddle lift bowl, dome and nail.