Product Description
Brand: RAW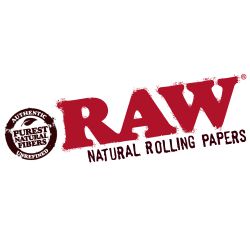 The RAW Smell Proof Smokers Pouch is a great addition to any smokers collection, perfect for discreet travel or just keeping your stash hidden at home. The pouch showcases the bold RAW logo against the natural brown coloured pouch. There is also a handy side pocket for any more bits 'n bobs that you might want to store. The zipper is made from silicone making it flexible and water resistant. With a foil inner lining it'll be easy to pick up any fallen product, unlike other material pouches. These pouches are durable, bring so much convivence being odor proof and are made to last!
5 Smell Proof Blocking Layers
1st Layer: 600D denier heather with polyurethane coating backing, 100% polyester

2nd Layer: Non-woven sheeting, 100% polypropylene

3rd Layer: 70% Carbon foam with 30% polyester

4th Layer: non woven sheeting, 100% polypropylene

5th Layer: Silver foil sheeting - aluminum laminated with PEVA and knit backing
Available in 3 sizes!
Small- 5.75'' x 3.75'' x 2''
Medium- 7.75'' x 4.75'' x 2''
Large- 10.25'' x 6.25'' x 2.7''