Product Description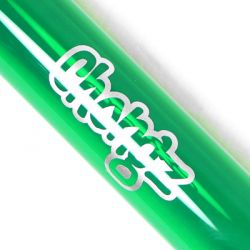 The 'Dickies Hoop' 30cm Acrylic Bong by Chongz is great value for money.
Measuring only 30cm in height and weighing less than 300g, the Dickies Hoop is a great travel bong option. Thanks to its tough and durable acrylic construction, it is able to withstand accidental drops that would normally be disastrous for the more traditional glass bongs.
Featuring a large water capacity base, ice twist for extra filtration and 4 decorative round pockets. Comes included with a removable rubber stand, metal downstem and rubber grommet.