Product Description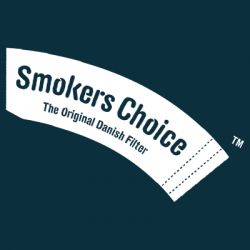 It is said that the only thing better than a work of art is a work of craft. Something that is beautiful as well as very useful justifies its existence beyond any gallery. A big fat blunt qualifies methinks, and should be soaked up visually before being burned up physically.
The baddest of all the big fat bad boys, blunts should always be made correctly with the perfect shape. The designers at Smokers' Choice have banged the nail on the head here (probably with a particularly heavy blunt) and manufactured super bad blunt tips so everyone across the world can roll perfect blunts and see that the Danes truly are great. 33 filters in a booklet means 33 blunts that you can stack up in a Jenga tower formation and play the best version of Jenga since that giant one they had on telly.
With each purchase that contains a Smokers' Choice product you will find a rather smashing free gift! It's a piece of card that not only heartily endorses Smokers' Choice but is also designed to fold into an origami style rolling tray! Why build paper planes when you can build something useful and beautiful?