Arizer Vaporizers & Spares
Introducing the new and exiting range of vaporizers from Arizer. Whether you're looking for a handheld or a desktop unit Arizer has a vaporizer that suits your needs.
More and more people are turning to vaporizers as a safer and more effective alternative to smoking; whatever material you place in the vaporizer is gradually vaporized rather than burnt meaning that the levels of carcinogens and toxins produced are greatly reduced. For this reason vaporizers are recommended for medicinal use. No combustion means cooler temperatures, less waste and greater efficiency.
Who Are Arizer
Arizer is one of the leading producers of vaporizers on the market, offering great value for money and well thought out, high quality design all round. All Arizer vaporizers are made from the strongest, highest quality glass available. Metal, plastic and other materials commonly used in other vaporizers can affect taste and sometimes give off harmful toxins. Glass provides a clean, smooth and safe inhalation experience. For similar reasons, Arizer also uses a ceramic heater as opposed to a metal one, to avoid impairing taste and generating toxins.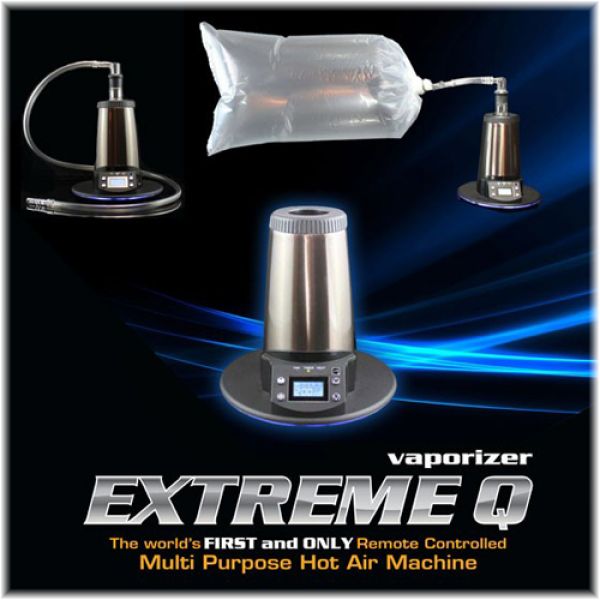 The Arizer Extreme-Q Vaporizer includes a remote control for precise, hands-free bag filling, and is the only vaporizer on the market that offers a choice of whip or bag filling in a single unit. For this reason it's swiftly become established as one of the leading models on the market. Other features include Arizer's trademark upright cyclone bowl (that allows air to be distributed evenly and economically), an automatic timer, a digital LED display and three-speed fan.
The Arizer V-Tower offers a choice of whip use for direct inhalation, or potpourri bowl attachment to fill the room with your chosen aroma, and is renowned for its precision temperature control. The battery-powered Solo Portable Vaporizer comes with three different attachments allowing a variety of uses, and a long-lasting, rechargeable lithium battery. Finally the Vaporfection ViVape 2 is simply the most hi-tech, multifunctional vaporizer on the market, with its touch screen Vapor Touch control system for setting temperature and delivery method. A full range of accessories and spare parts are also available for all models