Product Description
The Woodsman Pipe is hand carved from gorgeous dark wood and polished to a fine, smooth finish.
The good sized bowl on the Woodsman Pipe has been carved to a classical shape giving the whole piece an understated, sophisticated look. The pipe features a rush hole for an optional extra deep hit.
These pipes will require screens. You can get those here!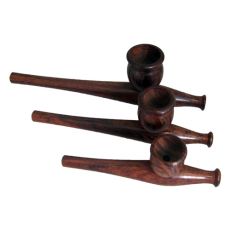 This pipe comes in three sizes;
The small pipe has a stem approx 4 inches long
The medium pipe has a stem approx 5 inches long
The large pipe has a stem approx 6 inches long