Product Description
Brand: Chongz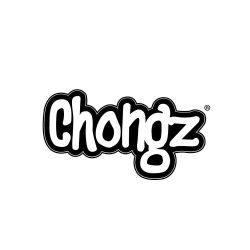 The 5mm thick glass is high quality, and gives the bong a decent, weighty feel to it.
Each bong has several coloured accents, adding an attractive look. These are the mouthpiece, the bowl, and the percolator itself, and they are available in either the white "Lovely Boy," the black "Yeah Yeah Yeah" or the Amber "No Way J."
The first piece of cooling and filtering equipment is the 14.5mm diffuser downstem, which breaks your smoke up into smaller bubbles, allowing the water to cool it even more than usual.
It then travels up to the percolator, where it is broken down even further, allowing for extra cooling, before finally hitting the ice shelf, proven to cool and remove more impurities from smoke than just water alone.
As with all Chongz bongs, the funky Chongz logo is printed on, in this case on the bong's neck.
A must-have piece.
Get all your bong accessories right here.