Product Description
The Wolf Productions T1 is the smallest combination box in the range. Compact and easily portable, now available in the warm, lush maple wood variety.
The Wolf Productions T1 has compartments to store your rolling essentials and tabs to hold and protect your papers. The "V" block is securely attached to the interior as this model is compact and light enough to easily pick up, move around and set down as you please.
Made by Wolf Productions.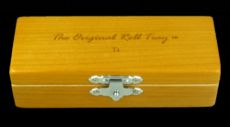 Get your rolling papers here at Shiva Head Shop - every type for every preference!