Product Description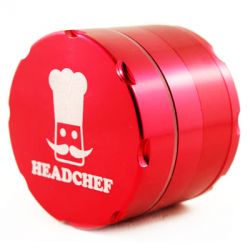 The Head Chef Jr Sifter Grinders are the newest in our range of Head Chef grinders. Now with a refined tooth layout for a better consistency of ground herbs.
The Head Chef Jr 50mm Sifter Grinder consists of 4 parts and now has an easy grip top and bottom part for better grip when in use.
The top 2 parts contain the grinding teeth, the center part contains the herb collection / sifting net and the bottom part is where the high potency sift is collected.