Product Description
Boys On Tour >> Amsterdam. "Wash hands after playing!" Strictly Over 18s Only. If you've ever felt the need to relive your bawdiest moments abroad on a boys' holiday in Amsterdam, you'll be laughing your pants off (literally!) with the Boys On Tour Amsterdam board game.
Boys On Tour >> Amsterdam is the grubbiest board game ever devised. Just how bad can you be?
Your mission, should you choose to accept it is to...
Get laid in every Bordeel
Get pissed in every Bar
Get stoned in the Coffee House - and get home again!
Prepare to shaft & be shafted by some truly sleazy characters and XXX-Rated Dirty Tricks: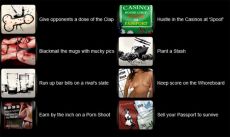 Can you out-do your mates with some rascal tactics in the underworld of Amsterdam? Here are just a few of the naughty ways you can use to get ahead of the race!
Give opponents a dose of the Clap
Blackmail the mugs with mucky pics
Run up bar bills on a rival's slate
Earn by the inch on a Porn Shoot
Hustle in the Casinos at 'Spoof'
Plant a Stash
Keep score on the Whoreboard
Sell your Passport to survive
If you think you've got what it takes to get your kicks and get yourself home again in one piece, take on the the ultimate challenge of the Boys On Tour >> Amsterdam board game.
The Boys On Tour >> Amsterdam board game comes with board, cards, dice and toy cash.