Product Description
The world's best marijuana plants identified and explored. Use this book to decide what strains to cultivate.
Back Cover: The single source book for the world's best marijuana. The Big Book of Buds charts the world of marijuana in an unprecedented way. Gathering information directly from breeders on several continents, it explores the top 100 buds, giving the reader a full sense of this plant's wonderful diversity.
Marijuana is a plant whose gene pool has been coaxed to emphasize specific traits, such as growth habits, taste, smell and the quality of the high. With a combination of outstanding color photography, descriptive text and icons for quick reference, each variety's unique combination of characteristics is presented in detail. Essays and stories appear throughout, reporting on the global marijuana scene, breeding and botany, and the art of enjoying great cannabis.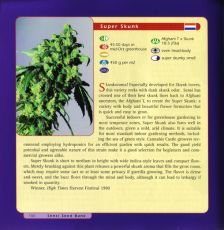 Whether gardener or gourmet, this celebration of the marijuana plant will increase any enthusiast's appreciation.
About the Author: Ed Rosenthal is the (in)famous High Times editor and columnist whose expert advice has been used by millions of gardeners. He is the author of two of the best-selling marijuana cultivation books ever published: Marijuana Growers Handbook and Marijuana Grower's Guide. Ed currently divides his time between international cultivation research, the study of international economics and domestic marijuana law reform. His hobbies are drugs, sex and music.