Product Description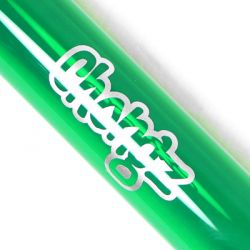 Chongz Jumble Gloss Grey Ribbed Glass Bong is a very unique bong. Adorned with riveted glass it stands out as a really unique piece
The 7mm thick glass gives it a really heavy and sturdy fee, and the ribbed and twisted glass reflects the light in the most beautiful way. Giving it a grey aura when directly in the sun.
The Bong features a diffuser down stem to help cool and filter the smoke and a large removable glass bowl. The neck of the bong also features a twist, where if you so wish, you can use ice to cool your smoke even further.
You can find accessories and replacements for the Chongz Jumble Gloss Grey Ribbed Glass Bong here
Replacement stem Glass Diffuser Downtube 18.8mm Stem Only size: 14.5mm x 18.8mm x 100mm
Any Glass 14.5mm bowl or ash catcher would fit this stem.