Product Description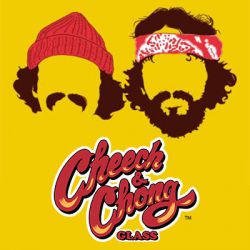 Standing at 12" high the bong features a donut hole in the centre which helps to swirl air and smoke coming up from the beaker base.
The mouthpiece is embellished with glass globules, a wonderful decorative feature that crowns the bong.
The Base of the bong features a large decal of the pairs grinning, stoned faces. This decal is also printed on the bowl, and their logo is printed on the downstem and neck of the bong.
The Cheech & Chong Sister Mary Elephant Donut Bong come supplied with its very own fold-able, leatherette case to protect and carry it. The outside is decorated with a swirled tie dye pattern along with their logo and grinning faces.
Each bong comes with a certificate of authenticity so you can rest assured that you are paying for a genuine high quality Cheech & Chong piece.