Product Description
Your Cannabuds Stash Box will look after your goodies and it doubles as a handy ashtray!
Made with heat resistant material.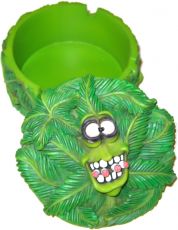 Ashtrays are available in all shapes and sizes from other ashtrays available at Shiva Online, try these suggestions: Brass Leaf Ashtrays, the crazy 8-Ball Ashtray, Ceramic Ashtrays, Portable Ashtrays, and the original Easyleaf Stashtray.